Champion Print Studio is your one stop shop for custom clothing solutions. If you
have a sports team that needs new uniforms, we can make them. If you're in a band and
need merchandise for touring, that's our expertise! Even if you're looking for
100,000 t shirts for a large corporate promotion, we're here to get it done. Champion can
accommodate any size order. No order too big, no order too small.
Screen Printing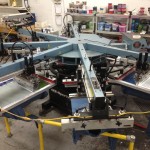 Screen printing is our main focus at Champion and the most common method for printing clothing. 99% of any garment on the market today is screen printed with plastisol inks, and we ensure top quality prints with top quality inks that won't fade or crack, even after hundreds of washes. Screen printing is the best way to print your logo on t shirts, sweatshirts or any other type of garment while remaining cost effective but still having top quality clothing.

Plastisol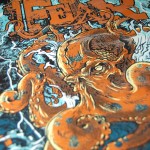 Plastisol is the most common ink used by screen printers in the industry. They allow for full and opaque coverage on garments of all colours.  These inks are recommended when printing on dark or bright colours, as they retain a bright, crisp image for many years with proper care.  Plastisol tends to sit on top of the garments threads as opposed to soaking in, which leaves the print have a raised plasticized texture.
Discharge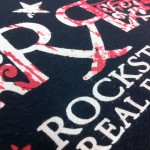 Discharge printing is a method of applying a design to dyed fabric, by printing a colour destroying agent on the garment to bleach out the pattern on the dark coloured ground. Colour discharge printing acts in a similar manner, but when the dye from the garment is removed, a new colour is added directly to the fabric.  This process has the ability to make bright, opaque colours print on dark coloured fabrics with a soft feel.      
Heat Transfer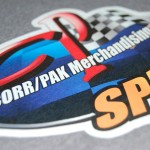 Using industry leading transfer paper, we can print off any high resolution full colour graphic and have your shirts ready in minutes. We also use Duracad vinyl for custom names and numbers for team uniforms, so you can rest assured your clothing will have top quality custom numbers and names. Heat transfer is also great for doing specialty prints such as foils and flocking.

Embroidery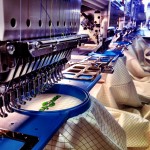 We often recommend embroidery for hats and golf shirts, but it is available in a range of products. The designs are stitched directly into the garment, for a permanent look. There is a variety of thread colours to match the look of your designs.
Foil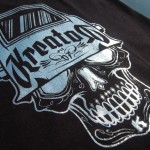 Foil Stamping is the application  of metallic foil, often gold or silver, to a garment.  A special film-backed material allows the foil to adhere to clothing when heated. This method leaves the foiled design on the garment permanently.
Glitter Ink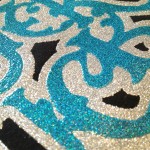 Glitter ink in is plastisol based with flecks of holographic glitter to produce a sparkly, fun look. We carry a wide range of colours including: Gold, Silver, Techno Silver, Gold Dust, Ice Blue, Ice Wine, Holographic Purple and Electric Green.
Hand Screen Posters
Along with printing various types of apparel, we also are able to print posters. Using the same processes as regular screen printing, with a slightly different ink, we are able to produce posters up to 16″X20″ large. They can be printed on the paper of your choice in a range of colours.
Simulated Process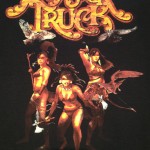 In simple terms, Simulated Process printing is a method of printing full colour images onto dark garments without using the standard CMYK separations. It is a more advanced technique that uses halftones to represent the colors in the original design. It usually involves 6-8 ink pantones that when layered gives the overall look of a full colour graphic.
4 Colour Process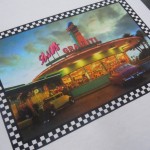 A method of using 4 colours (Cyan, Magenta, Yellow & Black) to produce a full range of colours.  Tiny dots of each colour (called half-toning) are printed together in different patterns to create these full colour images.
Graphic Design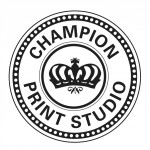 Our team of experienced graphic designers can help you create a logo for your company, or design graphics for your band merchandise from scratch. Do you have an idea for a t shirt but don't have the means to design it? We offer full service graphic design consulting, and work with you to achieve the best possible graphic that will be suitable for custom screen printed garments.